Rich, warm colors, stunning hand-painted murals and bubbling fountains set the scene for delicious dining at our signature restaurant, Giulio & Sons.
Long a favorite of local Dearborn residents and guests, this landmark among Michigan restaurants is perfect any time of the day.
Open for breakfast and lunch daily, it's in the evening when the restaurant truly comes alive, as our talented chefs create perfectly prepared steaks, seafood and Northern Italian specialties designed to delight your palate.
Celebrate a special occasion, or entertain an important client, with dinner in one of our private alcoves and a bottle of your favorite wine from our extensive collection.
Giulio & Sons is conveniently located on the second floor and offers satisfying choices for everyone.
Open Daily for Breakfast, Lunch and Dinner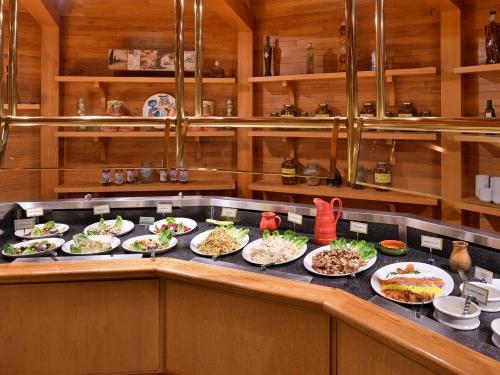 Monday - Friday | 6:00am - 10:00pm
Saturday - Sunday | 6:30am - 10:00pm
Closed Daily from | 2:30pm - 5pm
In Room Dining
Please check in with the Front Desk or Dial "0" from your room for current hours.
Thank you!